Unified Communications Company,Kochi,Kerala.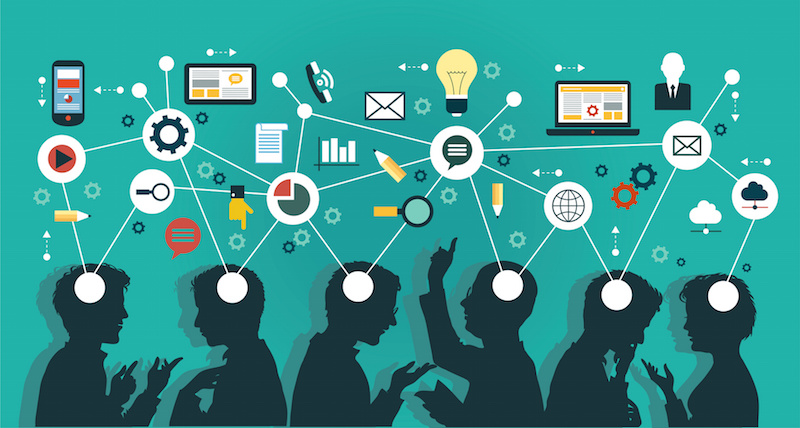 Communicate anywhere, anytime, on any device
A good communication platform helps you to communicate and collaborate with your colleagues, partners and customers. d'Katia bring different communication methods together into a single user experience – from email and instant messaging to video conferencing and telephony. We help to ensure your teams have access to the right communication options by designing solutions to fit your business' specific requirements.
You need reliable, super-fast and secure communication tools to connect you with employees, customers and partners. By integrating all your voice, video, data and mobile applications into one IP–enabled platform, unified communications enables new and smarter ways of working, extends the lifetime of your existing infrastructure and cuts costs.
WHAT WE DO
Design
Custom-made, affordable solutions packages powered by unified communications, collaboration and networking services. Easy to keep people and work connected according to business processes, headcount and scale.
Supply
With our long-standing partnership with some of the most renowned names in the Unified Communications, Collaboration and Networking business, we have garnered unique insights into the benefits of each product aimed at reducing costs and improving mobility.
Installation
Taking care of installing the hardware, synchronising the software and aiding your comfort with the devices is our responsibility. As a practice, testing of the same technology is also carried out before deployment through checks aimed at streamlining IT operations and managing complex UC solutions across audio/video web meetings & calls.
Maintain
Our valued association provides complete life-cycle management/delivery using capabilities on various UC platforms. Agility and responsiveness define our maintenance standards and we are always eager to respond to queries.
Audio-Video Conferencing
We bring conferencing solutions that brings employees, customers, and partners together to collaborate from anywhere with highly scalable voice, video, and content using any standard end point. Delivered from the cloud, on premises, or through hybrid solutions.
The solutions allow more secure collaboration from mobile devices, desktops, or meeting rooms with scheduled or unplanned meetings.
Our Solutions seamlessly combines enterprise communications and collaboration solutions in Virtual Meeting Rooms, or acts as flexible gateway between platforms. It allows people to use any communication or collaboration device or tool including legacy VC end points,  Skype™ for Business or Lync®, personal and mobile devices, telephones, or simply any web browser.
D'Katia's Video Conferencing Solutions provides crisp, smooth and excellent video performance in real-world network conditions. It helps you boost productivity and enhance relationships. Our video conferencing solutions enable participants to interact as if they're all in the same room, face to face.
Contact Centers
Solving your new generation challenges of Contact Center technologies is what we specialize in. With experience including small captive establishment, large outsourcing centers, BPOs and KPOs, we understand the various technological and operational requirements running a contact center.
d'Katia has fostered strategic partnerships with most contact center technology OEMs and is able to offer best-in-breed solutions. With our knowledge, skill, and experience we are able to stitch together various components to offer a seamless experience to your end-customers.
We help our customers deliver world-class services around:
Voice – inbound/outbound
Self-service solutions
Multimedia management
Video based contact centers
CRM integrations
Social media integration
Quality/compliance solutions
Reporting and analytics
Back office automation
Packaged applications
Work force optimization solutions
D'Katia professional services for custom requirements
Audio visual integration for meeting rooms, indoor and outdoor areas, training rooms, boardrooms, war rooms, information sharing display, user and guest entertainment, video conferencing rooms, tele-presence and control rooms
Video conferencing infrastructure deployment
PRODUCTS
With unified communications, multiple modes of business communications are integrated. Unified communications are not a single product but an architectural platform that includes:
Communication and Messaging
Communication and Messaging solutions bring ease and speed to your UC strategy. You can access and manage your email, voicemail and faxes using a single interface. You can bring the whole integrated collaboration environment of voice, video and web communication in office or on the go. All UC capabilities in a virtual desktop mode can be enabled. Message-based communication allows you to expose a service to your call by defining a service interface that clients call by passing XML-based messages over a transport channel. Message-based calls are generally made from remote clients, but message-based service interfaces can support local callers as well.
Platform and Infrastructure
D'Katia helps you to centralize and simplify your technology infrastructure. It delivers the high performance, flexibility, and agility you need to enable growth. You can take advantage of cloud-based delivery, new licensing models. Solutions helps you reduce your total cost of ownership.
D'Katia's Video Conferencing Solutions provides crisp, smooth and excellent video performance in real-world network conditions. It helps you boost productivity and enhance relationships. Our video conferencing solutions enable participants to interact as if they're all in the same room, face to face.
FEATURES
Domain expertise on Data, Voice & Video conferencing solutions
Communicate & Collaborate with anyone at any time anywhere with video conferencing system
Broad, High quality, Secure and reliable video conferencing solutions
Deep interoperability and integration.
Helps in business communications providing engagement everywhere
Provides rich user experience
On Premises/Cloud/Hybrid – HW/SW/Services – OpEx/CapEx