Kerala's best IT Rentals Company specialized in computers & CCTV, lease or hire services in Kochi,Kerala.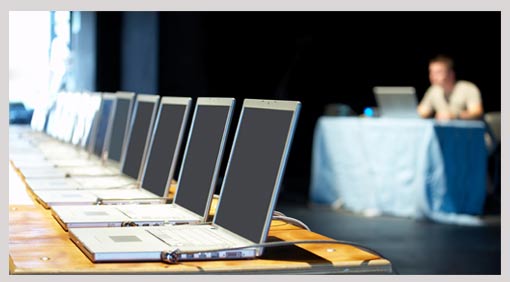 d'Katia has constantly been the tag name in the evolving market to bring about the best practices towards incorporating the blend of technological innovations in the market today. We have been persistently striving hard to render our excellent services to enhance the business solutions for the plethora of organizations towards enhancing the customer's expectations in the long run.
We have been acclaimed in the market to rendering the customized IT solutions for our esteemed clients with reference to the deployment of technology solutions at their premises.
We go with a profound ideology to render the best of customer services to the organizations and constantly spearhead ourselves towards the return on investments (ROI) for the customers in large.
CCTV Rental D'Katia offer Complete CCTV or IP Camera Setup on rental Basis for All kind of Industries across Kerala.
We offer CCTV to Rent Solutions to Business as well as Private and Domestic Customers. The Surveillance Systems offered are especially designed to be quickly deployed, easily set-up and universally useable in divers internal and external applications. Installations are carried out 'provisionally, which means that cables will be clipped neatly – without leaving marks after pick-up. We therefore avoid drilling holes and opening walls as much as possible, which also reduces installation time and allows lower pricing.
Wide range of CCTV cameras that fulfill different requirements and opt the one that suits your need the best. Rental is available for all type indoor and outdoor Events, Exhibitions, Religious gatherings.
Following CCTV products are available on rental and sale.
 Dome Cameras, IR Dome, IR Bullet, PTZ Cameras, IP Cameras
 8 Port, 16 Port, 32 Port DVR, NVR
 Web DVR Monitoring Solutions, Solar Camera Solutions
Computer Rental While desktops are very easy to maintain, the cost involved in maintenance is low and the ease at which they can be used is also high, especially for working professionals, students, hospitals, businesses and others. With all the advantages, if you are planning to buy desktops in bulk then it might certainly be very heavy on your pockets. The only solution to this is to get desktops on rent, lease, or you can simply hire them.
However, the problem arises when you have to choose the best desktop rental services in Kochi,Kerala. If you are in a dilemma in the same context then be care free for a fact that we, at d'Katia, provide a superior range of Desktop rental services in Kochi,Kerala. With us, you can be rest assured about the number of desktops, services, and the quality of both. We are thorough professionals in this field; hence we effortlessly deliver more than what you expect.
Our desktop rental services in Kochi,Kerala certainly are the best in the market and we provide the best quality desktops at a very competitive price. Using the advanced and the latest technology our desktops are built with features that will let you spend zero amounts on the maintenance.Our desktop rental services doesn't limit to just the quality and a great price. We take care of all your specifications.
Laptop Rental Premium laptop rental, deluxe laptops rental and standard laptop rental service in Kochi,Kerala, our laptops and notebooks come with outstanding free support and maintenance service and for bulk orders we give good discounts.
Renting a laptop/computer in Kochi,Kerala, hardware or related peripherals cannot get easier and better than this. Be it for professional needs, educational purpose, travelling, events, or anything, we are all game to give you the best of what you expect.
Competitive Price is what we believe in Laptop Rental Service: We understand the importance of your hard earned money; hence we follow a purely competitive price that will let you avail our superior services at the least price possible in laptop rental service.
We believe in making our customers our loyal family and hence we deliver what we promise. Laptop rentals, LCDs, LEDs, Printers, Projectors, tablets, Macbooks, ipads, Workstations, PCs or any other digital equipment can be rented at ease, that too with a delivery time with zero complaints. Our employees are well trained to deliver products on time and get all your queries resolved within no time.
Mac Book Rental Apple Macbook rental/ hire/ lease service in Kochi,Kerala, Macbook Pro, Macbook Air and Macbook Mini for your need in Kerala, we offer best price and discounts on bulk orders/Rentals.
Macbook Rental Services in Kochi,Kerala, where as Macbook comes with a huge pool of advantages and great features in comparison to laptops and PCs. So, if you choose to rent, hire, or take a lease of Macbook in Kochi,Kerala, then you are on the track. Renting, leasing or hiring is the best solution for a cost effective business. In addition, renting with d'Katia makes your experience of business even more easy and successful.
Macbook certainly is a smart way to make your business successful. In the very context, we at d'Katia, make your journey even better by renting, hiring services and leasing our service to you at ease. With us, you no more have to worry about the quality, performance, leasing, renting options, and the pricing. We believe to transcend your business into a successful venture and hence, we provide the above services in Kochi,Kerala at just one request of yours.
Server Rental We offer Server Maintenance and Server Rentals Services in Kochi,Kerala, which can be tailored as per your requirement and plans.
When it comes to computer server rental service Kochi,Kerala, it goes without saying that servers are the nerve of any administration. Be it for IT foundation, educational organisation or a private company, upholding servers mark a good performance of your organization. While Server management might really be a deadly task, d'Katia endows you with a smart solution of getting your computer servers right and up throughout the service without any glitch in Kochi,Kerala.
>
Projector Rental HD Digital Projectors for Rental in Kochi,Kerala with complete support and maintenance and could choose DVD, Power Point, Digital and HD Projectors for Hire / rental / Lease for short term or long term bases in Kochi,Kerala. (High Resolution Projectors).
Projector rental services Kochi,Kerala: You and your business have multiple aspects on projectors that need to be effectively showcased many times. Needless to say that projectors indeed projects the image of what you are, you certainly need to push aside a good amount of money to acquire a good quality projector as per your requirement. If you want to have a good impact in your audience effortlessly then having a good quality projector is a must. This might burn your pockets down really bad, especially if you need projectors in bulk for your event organization, educational requirement, or any other purpose. While you may hunt down to escape this huge cost, the only solution to this, is through renting or leasing projectors in Kochi,Kerala.
Once you decide to take projectors on lease, it is of paramount importance to decide on the right service provider. We at, d'Katia, are an expert in the field of Projector rental services in Kochi,Kerala.
LED/LCD Screen Rental LED, LCD TVs rentals service in Kochi,Kerala with ultra HD television displays that will deliver high detail picture quality. LCD and LED Monitors rental service Kochi,Kerala
Are you looking for some great LED's and LCD's for your business? Or are you looking out for some latest versions of LED and LCD TVs for your personal reasons, events, or educational ceremony?  If you are looking for one and are bogged down with the prices in the market, then give your worries a big pause. We at, d'Katia, have come with a smart solution of leasing and renting LED and LCD at an affordable price. Exclusively for you d'Katia is offering LCD and LED rental services in Kochi,Kerala
Why choose us: LED, LCD TV (television)Rental in Kochi Kerala.
 Master of the game: We at d'Katia have drawn together a good amount of expertise in offering LCD and LED rental services in Kochi,Kerala. We are adept in delivering and installing our screens at your expediency.
 You name it, you get it: We have LED and LCDs of almost all the renowned brands with different sizes, resolution, and other features. With the tinge of all the latest versions, touch screen, best resolution, different sizes, brands, colour, audio quality, picture quality, we have it all for you.
 Competitive Pricing: We deliver the best quality at the least price possible. With this, we make sure that we are the master of the game by giving you the best without burning your pockets really bad.
 Stock unlimited: We have a huge amount of stock, paving our way to suffice all our clients' needs. We never go out of stock. We always believe and deliver everything and anything you desire from us.
 Accessories: Apart from just LED and LCD TV rentals, we also provide supporting accessories like speakers, DVD, VCD, Wireless mike system and the list goes on.
 Service at Par: We believe and deliver constant service to our customers. Any technical issues are resolved by our professionals in the given turnaround time. We believe in maintaining a healthy relation with all our clients, hence we have specially focussed on services during and after installations. And hence the whole process dealing with us becomes easy.
Printer Rental Printers for rent in Kochi,Kerala- Laser, DeskJet, InkJet, Bar Code, Copiers and Heavy Duty Colour Printers.
Need a printer for hire in Kochi,Kerala for your business? D'Katia brings you the largest ever collection of printers for rent.Whether you need the for nominal use or commercial purposes, printers are an integral part of your operations in any business. Good quality printers are usually very expensive, and most offices require multiple printers for their everyday purposes. The wise way to get avoid the huge cost of purchasing printers is to rent / lease printers. While choosing the wise way, you still have to be smart enough to choose the right service which can provide you quality printers for rent.
.
If you are hunting for printers, rest assured that you are on the right track. We, at d'Katia, strive to provide you with a wide range of supreme printers that give you a high end quality print and also provide you with a lot of additional features. You either choose to have an old school printer or the latest one encompassing all the features, the choice is all yours. We have it all for you. Due to our huge stock of printers, we have a distinct advantage over our competitors. Our stock allows us to satisfy any order while at the same time keeps prices down.
iPad Rental Latest Apple Ipad rental service in Kochi,Kerala. Ipad pro, ipad mini and ipad air at your comfort in Kochi,Kerala
Your business is certainly your dream come true. IT is needless to say that you would yearn to have a winning breath for your business all through. With the generation pacing up like a rocket, you certainly have to get going with the changing times. Meaning, trash all the paper work, for now, it's time to become digital with everything that you do. It's time to start using iPads for all the petty presentations, notes, minutes and other business requirements. But hold on, if you are apprehensive about the cost of purchasing iPads, then just lay back and storm your choice at d'Katia that provides you a smart solution of iPad Rentals in Kochi,Kerala with ease.
Business needs you to keep travelling constantly. With the high end iPads rental services in Kochi,Kerala we, at d'Katia, are a contend store of all gadgets that you would need. In addition, we believe in doing it big. Hence you no more have to worry about the availability of stock with us when it comes to ipad rental or lease or hire for in Kochi,Kerala, Since we do it big, we have stroked the advantage of having our services at a very competitive price. With us, you no more have to dig your pockets deep. We believe ipad rental services in Kochi,Kerala foster our clients to have a business the smart way with the best quality at the lease price.
Our iPads rental services effortlessly integrate:
 Business Videos
 Documentation
 Demonstration of your new venture and products, presentation to clients
 Easy tracking of  your audience and client's response
 Collating Data
 Automated Customer Service
Purpose:
iPads go well with any kind of business, be it for event organising, travelling, visitors, or employees. Renting iPads have the following advantages:
 Digital Signage
 Web Applications
 Sales Presentations
 Product Demonstrations
 Employee Training
 Deliberate Planning
 Extensive I Pad Rental Options