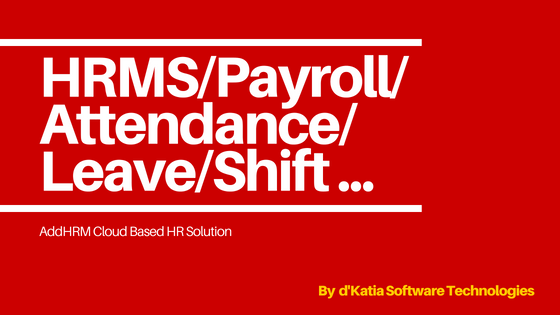 Five Big Benefits of HR Software
HR department one of the most responsible department in your office as they deal with the staff and maintains the employees. They have to concentrate on the retention of employees, productivity, recruitment, training, discipline, salary, and a lot more. A great coordination, extraordinary talent, and a considerable amount of time are required to meet all these requirements satisfactorily. An effective solution for the automation, as well as the accuracy of a lot of hectic HR procedures, is the HR software. Let us look into some of the big benefits of HR software.
An easy payroll management
Payrolls can be managed with ease and comfort with the HR software. Accurate payment of salary and tax can be performed with just a few clicks. Calculation and payment of final settlement when an employee leaves your office is no more a hectic job as the final settlement reports are auto-generated. Salary sips are also generated automatically and the employees can verify them in the personalized mobile apps. All the tasks related to the salary increment can be performed in seconds. To efficiently work with the payrolls, it is linked with biometric devices to monitor the attendance, overtime, and leave.
Real-time attendance from multiple branches
HR software can make your workplace more comfortable making the tracking of real-time attendance from multiple branches, hassle-free. Improve the organizational efficiency with HR software integrated with the existing punching system, or a biometric system to produce amazing effects in managing the employee attendance, leave, and time. It works by gathering data from different sources and analyzing it as per the company rules to calculate real-time attendance. A lot of time is saved to concentrate on the increase in ROI.
Employee database and documents
An organized storing of the employee database and documents becomes easier with an efficient HR software. It is designed for both the employee and the employer. Numerous employee data categorized beneath payment, personal, health, or any other can be managed comfortably with one reliable HR management software. It can also be accessed anytime, from anywhere, keeping the data handy, and location independent. All the employee records can be saved in a single place for an easy access and transparency. All the edits can be performed seamlessly.
Performance analysis
A good HR software also deal with the performance analysis of employees. A detailed evaluation of the employees is performed to carry out an accurate performance analysis which in turn leads to an increase in productivity within the same business hours. You can have a clear picture of all the contributions of an employee and can fix a deserving appraisal for him. All the features are user-friendly and the problems identified can be solved instantly.
Employee self-service, ESS
Employees will be capable of self-service and more convenient with the highly recommended HR software. It can contribute an intuitive and secured self-service all round the clock. Remarkable benefits can be enjoyed from a centralized system. ESS allows employees to change any of their information, which requires an approval. Employees are also capable to view their payroll information and schedule. Other benefits include a leave request submission to the managers for approval, automatic onboarding procedures, etc. Keeping an eye on the ESS can save a lot of time and enhance the efficiency.